Torrents are everywhere, and no one can fight piracy anymore. Yes we've heard of companies being sued by others for illegal distribution of their products and yes many have won and others have shutdown their services but when an illegal distributer falls another 10 will rise and life goes on. A time will come when all this madness is over but this is not gonna happen anytime soon. Maybe in a distant galaxy far far away....

Today I give you the latest BitComet release and the first stable, non-beta version BitComet1 is here. I've been using BitComet for almost two years now and I haven't whined a bit even though I was using the beta versions. Yes BitComet is one of the best Torrent clients out their. Yes it might not have all the features that uTorrent, Azureus and BitTornado have but it gets the job done easily and without any complications.

BitComet is a wonderful piece of software, it's light on both memory and HDD and has some pretty good tools to work with. The built-in browser is one of these, another feature is the streaming tool when downloading movies, it lets you watch them but only if you have a high speed connection otherwise it wont work.

When it comes to options BitComet probably has the smallest options menu and list compared to other torrent clients, and thats a good sign. See, too many options means a lot of time wasted for nothing for both the end users and the developers. I mean who cares about changing options if the application is working fine. With BitComet you can increase and decrease your UP/DN rate limits but I always enjoy sucking the internet dry and it lets me work with unlimited rates.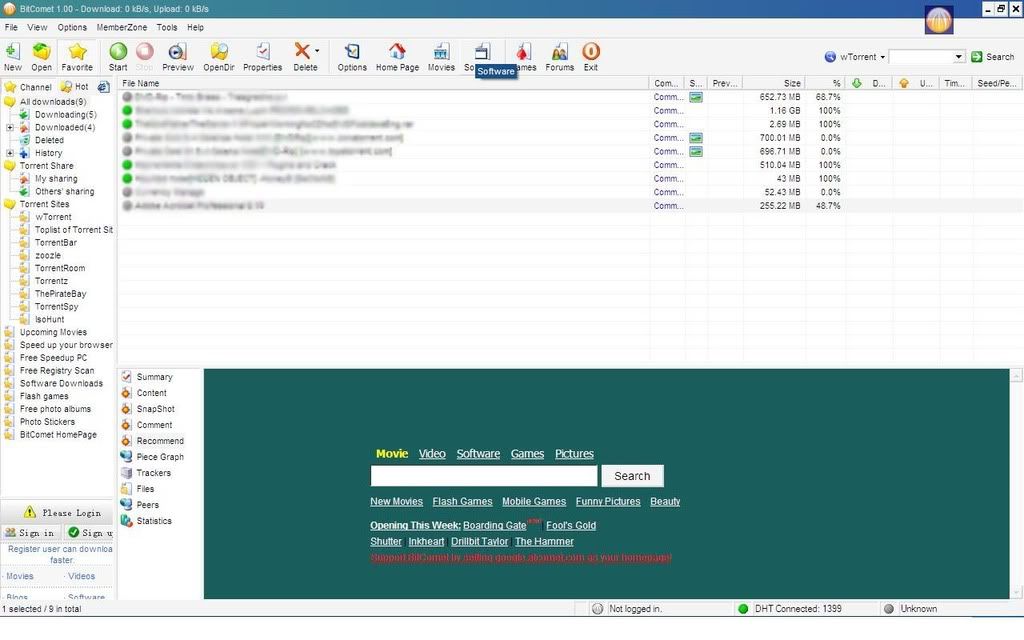 BitComet might be heavy when it comes to DN/UP usage, when you've started a download just forget you have an internet connection since BitComet will suck every bit of it for your pleasure. This will also affect all those poor people who are connected to you through a network, I guess my family is whining right now coz I've just started a task :p.

When it comes to simplicity and functionality look no further than BitComet, its slick, neat, light and has all the features that a leecher needs. Unfortunately if you are a distributer BitComet might not fit your aspirations as it is almost designed to satisfy all leechers needs and no distributes goals.

Edit: Just after a day of using BitComet 1.0 I've discovered a bunch of new fantastic features. BitComet is not a torrent client anymore, its an all purpose download manager. Just right click any download link on any web site and voala, BitComet will take care of it. Another feature which is amazing and surprising is the update checker, this checks all applications installed on your machine and then shows you a list of all updates available and lets you manage which one to download and the checking is done quietly in the background without any interruptions just a small pop-up box that shows at the bottom of the screen that you can easily ignore and/or close. I haven't tested the download feature on file sharing sites like Rapidshare or Megaupload but I will :D.

BitComet can be downloaded Here.

** If you are looking for a good torrents site check this.